rhn Photo: Avery's blessing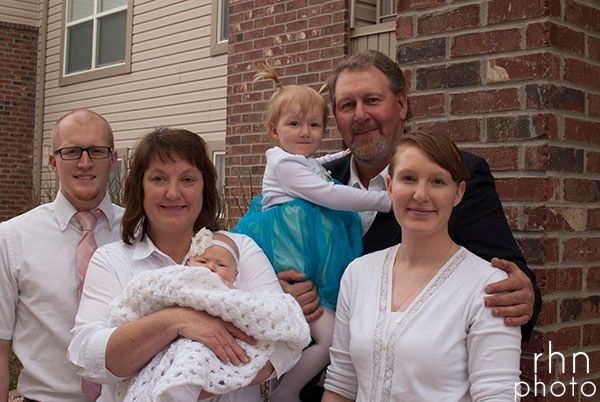 A couple of weeks ago our little family made our first post baby trip. I was so nervous and I seriously overpacked (he wore 2 of the 5 outfits I brought) but it was so worth it. We have a long history with our friends Scotty and Stephanie and wanted to be there when they blessed their little girl into The Church of Jesus Christ of Latter Day Saints (a baby blessing is similar to a christening in the LDS church.)
Scotty and I grew up in the same area and became really good friends after high school. Stephanie and I were roommates and I (kind of) introduced the two of them the same semester Jason and I met. We got married within a month of each other and we've loved watching their family grow. Their oldest daughter Hailey is adorable. She's mixed mine and Jason's names up and I'm afraid that we're going to break her heart one day when she realizes I'm Rebekah not Jason. Hahaha.
Stephanie's family loves documenting big life events and she, her sister and their mom are all photographers, but I asked if Stephanie wanted me to snap a couple of photos of the family so that they could all enjoy the big day.
I was really excited to take these because I've been taking a photography class over the last six weeks and I really wanted to try out what I had been learning. I was so pumped when I uploaded the photos to my computes because none of the photos needed any edits. I am so excited about my progress that I wanted to share these classes with all of you (in case you aspire to be photographers as well.)
Katie Evans teaches some amazing classes on her website
The Key To Pictures
. My favorite thing about Katie is that she has a heart of gold. She wants to help everyone become the photographers they strive to be. In order to do this she has been offering free classes. Like 100% free.
It's an 8-15 minute class once a week and she teaches a quick lesson and then has a Q&A session. I took a photography class in college and I've still learned more from Katie than I did in that class, which I was so stoked about. (Also, I'd like the money from my college course back please!)
If you want to learn and soak up all of Katie's knowledge, all you need to do is ask to join the
"Five Minute Focus" Facebook group
. We've finished the basics of your DSLR camera, but Katie, being the angel that she is, has grouped all the lessons together and its still offering them for free.
Also, this is not a sponsored post. I just wanted to share this amazing opportunity with all of you, so that you can become just who you want to be.