16 Summer Date Night Ideas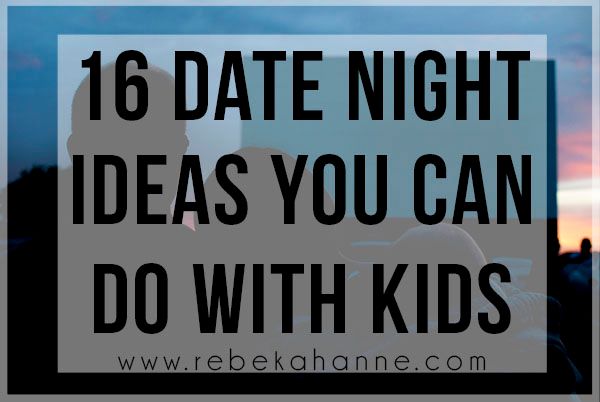 Jason and I were not big "date night" people before Benson was born, but I definitely saw a difference in our dates after we became parents. It's so easy to do spur of the moment dates when you don't have any kids, but spontiatiy is much more difficult when you have to plan around a baby.
What I've learned is that it's possible (and important) to spend quality time with your husband no matter what stage of life you're at. Jason and I love spending time with Benson so in an effort to kick up our date life I came up with 16 date night ideas that you can do with kids (or without kids if you prefer!)
Take an evening walk around the neighborhood. Put the kids in the stroller or grab the bikes and ride around.
Pack a picnic and head to the park. Eat as a family and then let the kids play while you and hubby chat.
Take dinner and movie up a notch at the drive in. This is a personal favorite!
Stroll around your local farmer's market and check out the vendors. Buy everyone a small treat so that it makes for a special occasion.
Feed the ducks. Another great activity to keep the kids busy while you and your man spend some time talking.
Hit up a soda shop. There are so many different flavors to combine that you'll never get bored!
Slip into your swimsuit and go to your nearest splash park or water park. Pack some treats and spend the evening cooling down.
Head out on an easy hike. Grab some sandwiches on your way out and eat them at the end of the hike.
Gather around the fire pit (or stove) and make s'mores! This one is fun with kids, or wait until they're all in bed and just spend some alone time with your man!
Make homemade pizza and watch a movie as a family. If you don't want to make your own dough buy some frozen rolls and have everyone make an individual pizza.
Spend the day lakeside. Pack a lunch and your swimsuits and just relax together while the kids play in the water.
Bake together. If it's just the two of you make a decedent treat that the kids wouldn't appreciate, or if you have all the kids in tow, make your own cooking show. It will make for great memories and everyone gets a treat in the end!
Act like a teenager and go on a family scavenger hunt. Want to make it more sophisticated? Try geocaching!
Visit a tourist attraction in your town and act like tourists. Maybe even let the kids pick out a souvenir.
Become an artist! Either at home or at a local art studio, have everyone paint their own masterpiece.
Make up your own sport or board game that is unique to your family. Then you always have something to play on a family night.
No matter what stage you're at in life it's important to make your relationship a priority. I've been so sad to hear about all these celebrity divorces (I'm literally still sick to my stomach about Blake Shelton and Miranda Lambert!!!) Don't fall out of love with your spouse. Work hard at your marriage and you'll reap the benefits!