Maternity Summer Wish List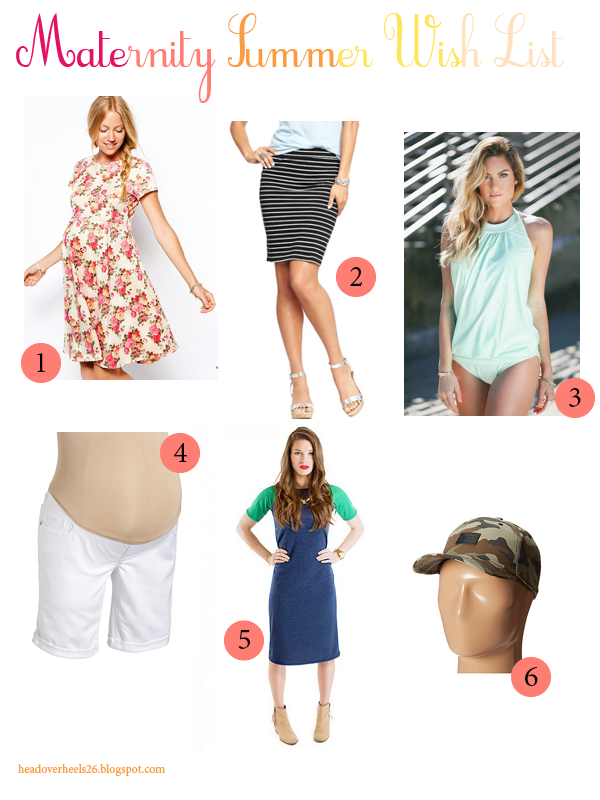 I have the opportunity to be pregnant through winter, spring, summer and a little bit into fall, which really means I'm trying to make my maternity pieces work throughout a couple of seasons. I loved leggings this winter as my bump started to grow, but leggings feel a little to wintery to wear in mid-June, so I'm starting to get a little stuck as to what to wear.
The summer heat and I
really
don't mix and I want nothing more to get rid of all clothing. Unfortunately, society frowns on nudity (and I think I'm a little to shy to actually go through with it), so I'm opting for some loose and comfy options instead!
1.
Asos
: I love this floral dress. It looks so light and breezy and like it's not going to squish my tummy (which it probably won't since it is a maternity dress)
2.
Old Navy
: I've wanted a striped pencil skirt for a while now, and this one would fit the bill perfectly! It isn't maternity, but it's stretchy so I'm hoping it could work as a now and later piece. Plus, it should really show off the bump!
3.
Albion Fit
: I'm in love with so many of Albion Fit's swim suits this season. I'd die for anything with the Antigua print, but I also love this mint suit. It has plenty of room for my ever-expanding belly and I love the neckline! I'm also a fan of tankinis for pregnancy, because who wants to mess with a one-piece when you're running to the bathroom every 20 minutes!
4.
Old Navy
: I've loved Old Navy's maternity pants (I already have a pair of skinny jeans and boyfriend capris). I think a pair of white shorts is the perfect summer staple. My only beef with these is that the nude panel makes it look like your belly is hanging out if your shirt doesn't cover it all the way.
5.
Junie Blake
: Again, this isn't a maternity piece, but I fell in love with it the second I saw it. I'm such a sucker for baseball tees, and this dress just makes the classic tee even better. Like the Old Navy skirt I'm hoping this would be a good before and after closet staple!
6.
Vans
: I've been stealing my husband's hats for a couple of weeks now. I love how they can be classy or comfy and oh so girly. I have been looking to get in on the camo print trend (which afore mentioned husband is thrilled about) and I think this would be such a fun way to add print to an outfit.