Cooking Thanksgiving dinner for fewer than six people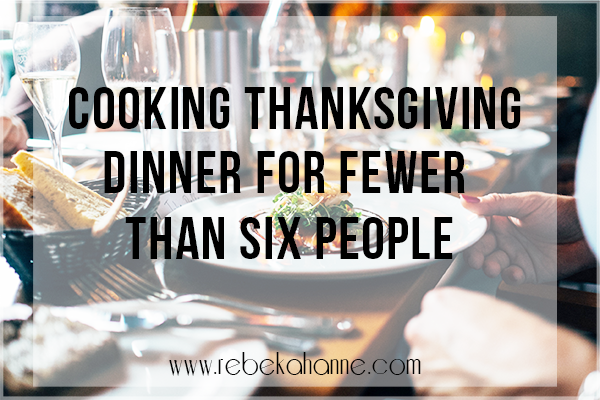 I've been married for over four years and have a home of my own, but people always ask me and Jason if we are going "home" for Thanksgiving. They're always surprised to find that we aren't and then they're even more surprised to find that we'll be cooking our own Thanksgiving dinner. Little do they know, this will be our fourth year hosting Thanksgiving and probably my husband's 15th year cooking the turkey.
The last four years that we've had Thanksgiving at our house have always been modest affairs. We usually have one or two of our siblings over and occasionally my parents have come out for the holiday, but we've never had more than six people over for dinner.
Jason and I both grew up in large families so cooking for only a couple people has been more difficult, especially on a holiday where you have to have so many different options. Each year we've gotten a little bit better, but I wanted to share our knowledge because it always seems like we have to go over board, but really we need to simplify.
Don't go over board on a turkey
Don't get me wrong, you should definitely get a great turkey because it seriously makes or breaks a meal, but you don't need a 25 lb. bird. We buy a 12-15 lb. turkey and we have more than enough turkey to lull us into a nice drowsy food coma on Thanksgiving and plenty of left overs for the next week!
Only cook your favorite sides
It's not Thanksgiving for me without mashed potatoes and gravy and Jason has to have candied sweet potatoes and rolls, so every year those sides make our cut, but when it comes to all the extras we just leave them out. I'd rather have a mountain of my favorite foods than a small sampling of a bunch of foods I don't care about, especially when I'm the one cooking! We have this same theory when it comes to pie!
Make your leftovers count
I love green bean casserole and it's usually a Thanksgiving staple in our house, but I've though about omitting it this year because it isn't the best left over dish. Instead of going the casserole route I want to just have a bunch of veggies and fruits. That way they can be mixed up and I won't be so tired of them by the time we finally finish the left overs. I especially want to do this so I can make a turkey pot pie. (
this
is my
absolute favorite
recipe)
Still make it a great feast
Just because you are few in numbers doesn't mean that you shouldn't have an amazing Thanksgiving dinner! Set your table, use your fine china and goblets. It's a great time to try your hand at a beautiful table setting since there will be more room for food and decorations. Having a intimate Thanksgiving dinner is great because you can all enjoy the conversation and eat to your heart (or stomach's) content!
What is your must-have Thanksgiving dish? Do you host or do you help?