Norton Family Christmas Traditions
Christmas traditions are supposed to be fun. They're supposed to bring your family joy and be something you anticipate all year long. But when Jason and I were first married we didn't have any real traditions of our own and that just stressed me out! I kept wondering how we could be happy family if we didn't have any traditions.
Now, after four years of marriage I can look back and I can see the traditions we've built year by year. I want to share some of my favorite Christmas traditions with you guys!
Cutting down a Christmas tree.
I grew up in Oregon and always had a real Christmas tree. The first year Jason and I were married we were in a tiny 300 sq. ft. apartment with no room for a nice tree. We bought a fake tree and could only hang half the branches in order for it to fit in our apartment. It made things festive and homey, but it wasn't quite right. The next year we went with some of our friends to hunt for a real tree. In Idaho you buy a tree tag and go out into the forest and literally cut down a tree. It was an absolute blast. We've continued to cut down a tree every year. Last year was the exception since it wouldn't have been feasible to take Benson out in the cold for that long, but we did it again this year and I loved the experience!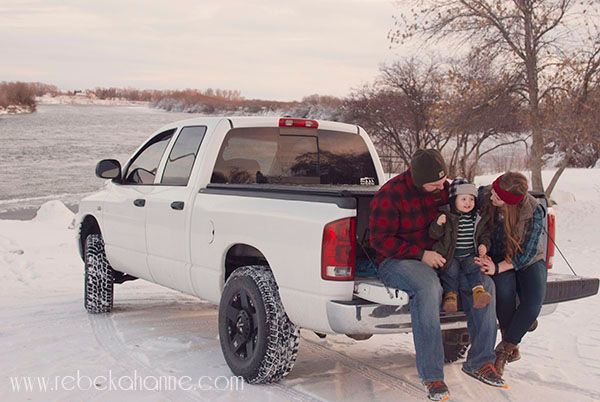 Decorating the day after Thanksgiving.
I am a huge believer in giving Thanksgiving it's well-deserved spot in the limelight, but I've also loved adopting Jason's family tradition of decorating the day after Thanksgiving. Something about hanging little lights all over my house just gets me in a festive mood. I grew up with garland on our staircase and it never feels like Christmas to me until it's up. Jason was sweet enough to buy me some garland a few years ago and I love setting it up. It just brings that Christmas magic into my home.
Taking a family Christmas photo.
For the past couple of years Jason has obliged me in a quick winter photo shoot and I've had so much fun taking the photos, editing them and creating our Christmas card. I especially loved this year's photo shoot because Jason helped me improve upon my original idea and once he got into the planning he was happier to take the photos and honestly, they turned out so much better than what I had planned!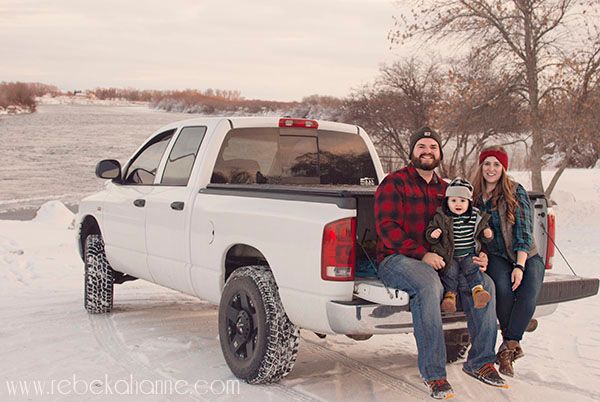 Baking Christmas Tree breads
This was another Norton tradition that we adopted. Every year Jason's mom makes these amazing Christmas Tree breads to give to friends and then she bakes a bunch to eat on Christmas morning. It was one of Jason's favorite things, so I've been trying to learn the art of Christmas tree bread-making so that we can continue this tradition. I'm not quite at the level my mother-in-law is, but I'm sure I'll get there one day!
Driving around to look at Christmas lights.
For the past couple of years, Jason and I have driven around when on Christmas Eve to look at all the Christmas lights. I absolutely love this tradition because it's always a quiet affair. We play some Christmas music and drink hot cocoa and just drive around. There usually aren't many people out because it's usually snowing and that just makes it even better. Last year was especially fun because we went out with Benson. Even though he wasn't old enough to know what was happening or to enjoy it just knowing that this was a family tradition made it so lovely.

Watching Christmas movies
We've been slowly growing our Christmas movie collection and it's been so fun to find movies from the past and new movies to enjoy year after year. We always watch A Muppet Christmas Carol, the classics: Santa Claus, Rudolf the Red Nosed Reindeer and Frosty the Snowman. We're hoping to add The Santa Clause series to our collection too! We love getting on Netflix and watching some of their picks. Last year we discovered Christmas with the Kranks and we loved it!
I want you to know that you don't have to have traditions right off the bat! Take your time building your traditions. Try new things, some will be amazing and some will be disasters, but in the end you'll find out what works for your family. We've built these traditions over four years of marriage. I'm sure we will add more in the future. We'll probably lose some as we have more kids and it gets too hard to do some of these.
Even as your traditions come and go you can always feel the spirit of Christmas if you remember the real reason that makes this season so wonderful.
What traditions do you have with your family? What new traditions would you like to try?