Colonial Inspired Pot Pie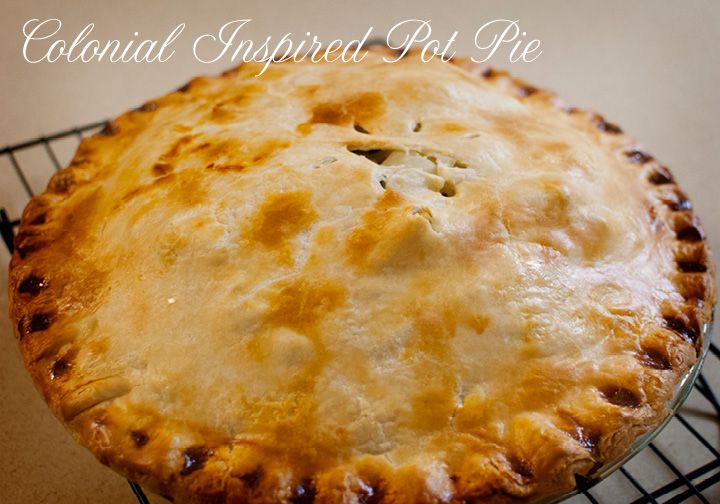 I made this pot pie after Thanksgiving and after posting a photo on Instagram I got a few requests for the recipe, which made me happy because it gave me a reason to make it again!
I have to attribute the delicious recipe to The Colonial Williamsburg Tavern Cookbook. The pie crust, filling and egg wash are all from that book. (it's available on
amazon
if you want more amazing recipes!)
1/3 cup chilled vegetable shorting or lard
2/3 cup ice water (recipe calls for 1/3
but I use at least 2/3, use more as needed)
(a rotisserie chicken, whole chicken or breasts
would also be amazing, but I am lazy and just
used what I had in my freezer)
1/2 bag of frozen veggies (or again, if you're
ambitious fresh veggies!)
2 large potatoes (I like unpeeled)
egg wash: 1 large egg, 2 tbs. milk
Sift the flour and salt (my favorite part) and put into a food processor.
Cut butter into small slices and add to processor.
Pulse a couple of times until butter in incorporated.
Add chilled shortening and pulse again until slightly chunky, but well blended.
Be careful not to pulse too much; the less you pulse the flakier the curst is!
Transfer to a bowl and make a "well" in the center to pour the water in.
Add the water and quickly stir with a fork, add water until it sticks together.
Roll into a ball (while in a bowl), wrap in ceran wrap and place in the fridge.
It must refrigerate for at least 30 minutes. I have had the best luck when
I let it sit for a couple hours (like five).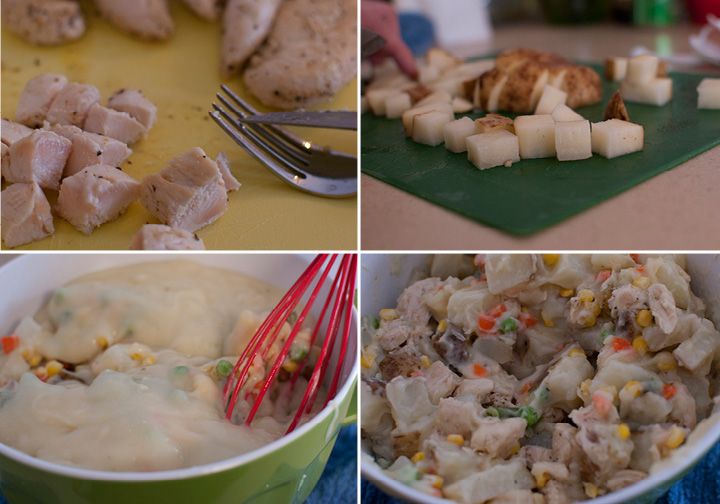 Cook your chicken, however you like. Cut into cubes or shred if you prefer. (p.s. I mostly cook my chicken, cube then finish cooking. Make sure the chicken is cooked all the way before you add it to the pie!)
Cube and boil potatoes until almost cooked (the first time I did this I didn't cook the potatoes before hand and half of the potatoes didn't cook! Don't judge, I'm not really a cook)
Place cooked chicken and potatoes in a bowl and add frozen veggies.
For the sauce melt the butter and slowly add the flour.
It should thicken and be a "lemon" color. Slowly add the chicken broth until it is the consistency of gravy (a thicker gravy).
Mix with the veggies and chicken.
If your pie crust isn't ready refrigerate until the crust is ready!
Once the crust is ready roll it out about a 1/4 inch thick and drape into pie pan; cut off excess.
Fill the crust with the filling. It's ok and even great if it mounds over the pie dish.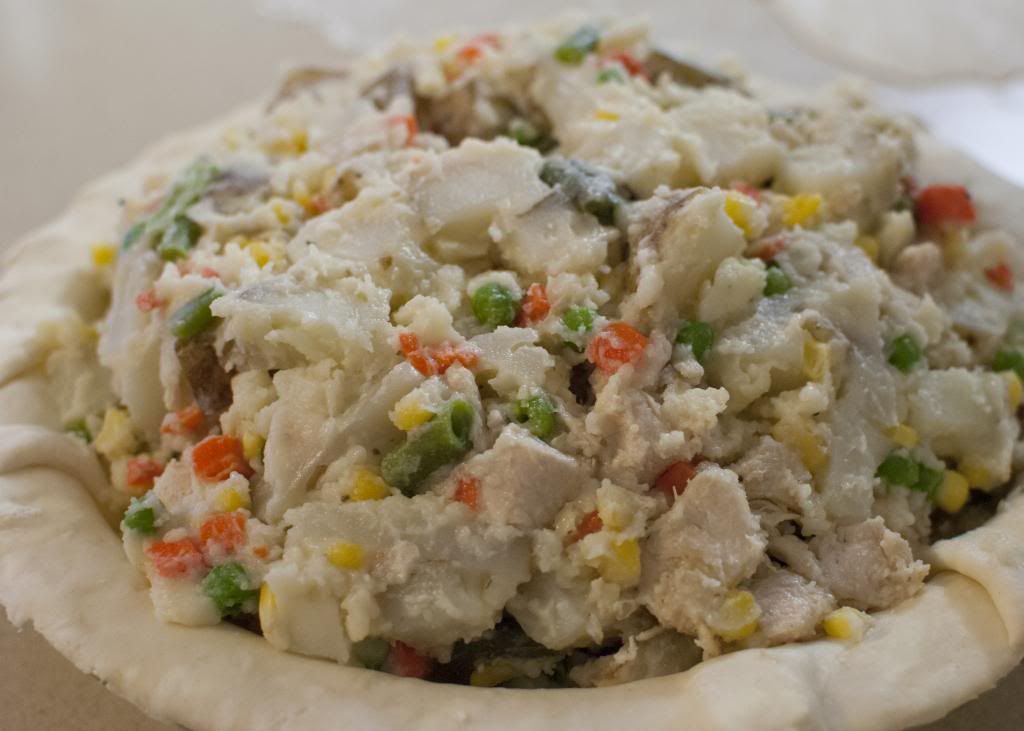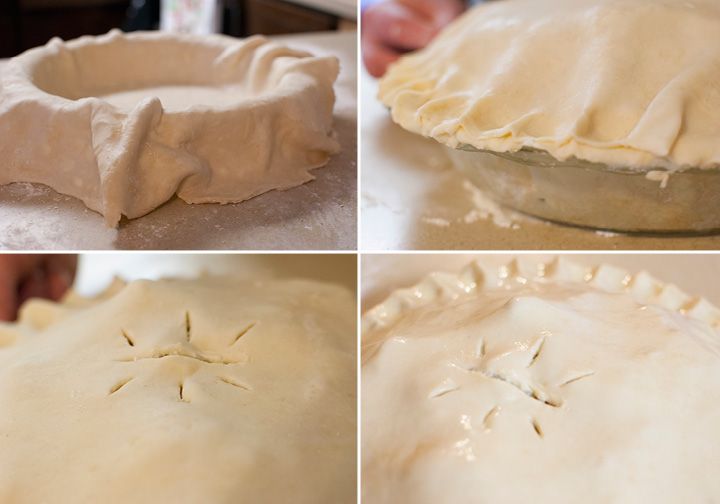 Roll out the left over crust and put it on the top of the pie. Pinch the edges together, or use a fork.
Cut holes in the in top, or puncture with a fork.
To make the egg wash mix the egg and milk and spread over the top of the pie (making sure not to leave heavy pockets so it's doesn't turn into scrambled eggs!)
Cover with tin foil and bake at 375 degrees for 40 minutes.
Remove the foil and bake for another 10-15 minutes or until the crust has browned.
Remove from oven and eat! (or let cool and eat, it depends on if you like your taste buds!)